Liveblogging LEVEL UP LIVE 2007: Day 1 updates (Part 2)
Alrighty!
It's almost 1:00 am. I only had 3 hours of sleep last night. But I have to squeak in one last post. This time it's about the official list of winners of the Day 1 tournaments.
As I discussed on earlier posts, the finals for day one included 4 games. Namely, Pangya, Khan, FlyFF and Perfect World.
Pangya had an interesting story! Champion Christopher Pernia arrived late – the morning of the tournament and still managed to pull off an impressive -28 score in 18 holes. Awesome, dude!
Too bad I wasn't able to take photos of all the winners. But good thing our official photographer did. Mental note to get those pics from him ASAP
The official list of winners after the jump
PANGYA PPT 2007
Champion, individual – Christopher Pernia
Champion, guild – Tomahawks
KHAN BAKBAKHAN 2007
Champion – Shadow Raven (2-0)
Runner Up – KhanMestres
FLYFF
Champion – Team Bellona (Shade) (4-0)
Runner Up – Rekta
PERFECT WORLD
Champion – Holy Order of the Light (3-2)
Runner Up – Mythical
PW was one of the exciting matches as it reached the final and deciding 5th game. HOL came from a seeming loss and they truly deserved the win.
Some team pics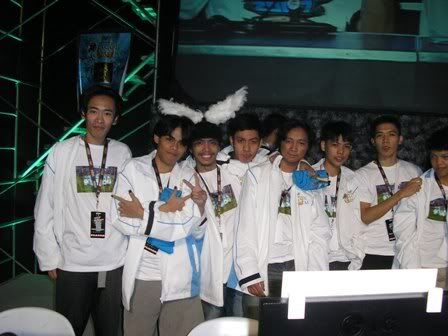 FlyFF Bellona
Perfect World's Holy Order of the Light
Anyways, gotta sleep now.
More updates tomorrow! Ack! I mean "later"
Nite!
GM T