God of War 3 Ultimate Edition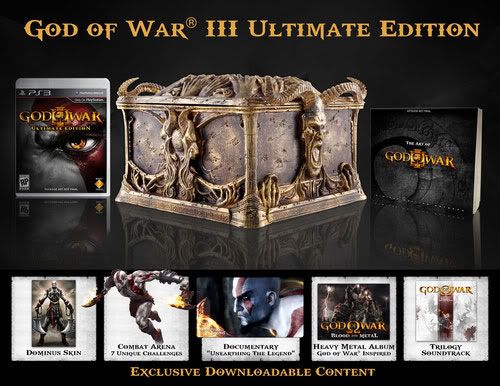 Besides being one of my favorite games for the console, Sony is releasing a special Ultimate Edition for God of War III (for the PS3).
What's inside the awesome replica of Pandora's Box?
Click for more details…
God of War 3 Ultimate Edition
Here's what you'll find inside the box:
Exclusive Collectibles
High-End Sculpted Replica of Pandora's Box
Limited-Edition God of War Art Book featuring exclusive art, content and interviews
Exclusive Digital Content (Available via PlayStation Network voucher codes on day of launch)
God of War Combat Arena containing an exclusive environment and seven challenges
Premium Kratos Skin – Dominus
God of War: Unearthing the Legend Franchise Documentary – a full-length movie documentary depicting the history of the God of War franchise
God of War Trilogy Soundtrack – God of War, II, and III scores from the game (mp3 digital download).
God of War: Blood and Metal EP – a heavy metal homage featuring original music inspired by God of War (mp3 digital download).
It doesn't end there… "Those that pre-order God of War III at select retailers will receive a voucher code for first access to download the God of War III E3 2009 Demo starting today, plus you will receive an exclusive downloadable skin"

Awesome!