Gamer Babe: Charlene
Many people will probably remember her as the sexy succubus or the "T-back" girl at the Level Up LIVE 2006 cosplay.
But Charlene Datan is also a true-blooded grrl gamer! She's played through almost all MMORPGs offered here in the Philippines.
Charlene is a 20-year old student taking up ES Electronics Communications Engineering. I took a little bit off my busy schedule to chat with her about, gaming, cosplay and other stuff that she enjoys doing. She's also on the cover of COSPLAY magazine! Wow!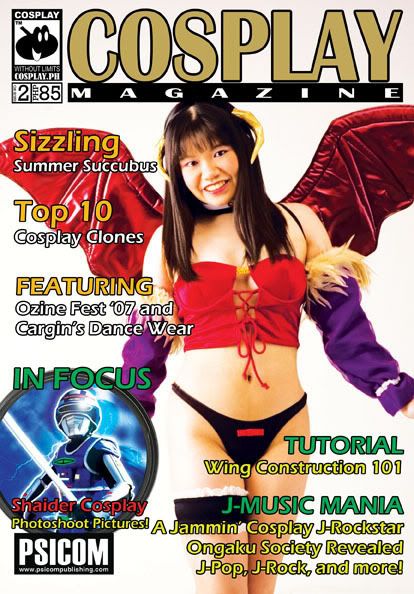 Check out the interview and more pics after the jump!
GM T: Tell me something about yourself?
CHARLENE: Well, I'm just your average girl who has a thing for video games and cosplay. Simplicity is my game.
GM T: How did you get into gaming and online gaming?
CHARLENE: My addiction to video games started when I was 7 years old. We had our very own Super Nintendo and basically I grew up to play video games when my parents allowed me to. I started to play online games when I was 14 years old and since Ragnarok Online came out in the Philippines. I guess RO was my very first online game.
GM T: What online games do you play? Why do you like it?
CHARLENE: Well let's see. I have played numerous online games but I didn't intend on playing it since some of them require load to pay for every month. I have played Ragnarok Online, Granado Espada, Lineage II, Perfect World, RF Online, FLYFF, Gunbound, and I forgot the rest. Recently I am playing Pangya. Each online game has its unique identity and has its different pros and cons for me. Playing online games is very different compared to playing a console game.
GM T: What's the best reason that you got into MMORPGs?
CHARLENE: I would say that it was the influence of my "significant other". He was the one who introduced me to play Ragnarok Online and other MMORPGS.

GM T: What do your non-gamer female friends tell you when they find out that you game?
CHARLENE: Well sometimes they call me "addik". Sometimes they would say "puyat ka nanaman ano? kakalaro kasi eh!" Some of them don't really get the idea of why I play for hours in front of the PC/TV while playing videogames.
GM T: What's your most unforgettable moment in game?
CHARLENE: I would say it was during the Beta days of Ragnarok Online here in the Philippines. I was going on a quest for my job change from a novice to an acolyte and I had to travel through the Yoyo land (we called it at the time it was/still full of Yoyo monsters). Me and my friends were just noobs in the RO world and we got mauled by a Yoyo, all 4 of us. I was a novice, my three friends was a merchant, a swordsman, and a mage.
GM T: Do you have any advice or tips for girls out there who want to try gaming?
CHARLENE: It's really fun and a great stress reliever! It tests your reflexes and a good source of entertainment! Besides, guys love girls who play games too~
GM T: Final words for your friends, guildmates or fans?
CHARLENE: I would like to thank my wonderful friends, Mao-nii, Nowiee, Scott, Paul, Nica, Hades and others who have been with me through thick and thin, whether in game or in real life. I would also like to thank my beloved "significant other", Choy, without you my life never had color. I would also like to thank my fellow cosplay veterans at Cosplay.ph~! More power to you guys!!! I would also like to thank the people who supported the T-back girl~! Hehe! I've read a lot of comments after the Level Up Live 2006 event about the T-back (Succubus) cosplay and I was very astonished. I would like to say that I put a lot of effort and courage to cosplay that character not to mention the expenses I had to make that costume. To the people who was/were offended by my cosplay, I would like to apologize that caused such an uproar but that was one of my own unique ways of expressing my love for cosplaying. Thank you so much for the comments and reactions~! God bless you all!!!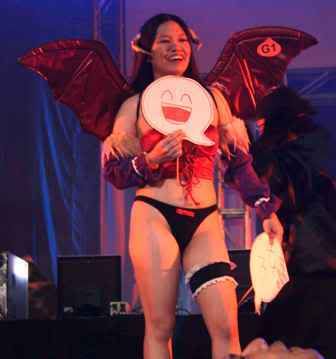 GM T'S "SHORTS"
Favorite Job: High Priestess
Favorite Skill: Assumptio
Favorite Monster: Succubus
Favorite map or area: Glast Heim graveyard
Favorite Weapon: Ice pick
Cutest headgear for you and why? Neko Mimi, I love and adore cats~!
(complete the sentence) If I were the most powerful being in my gameworld I would: Enforce strict rules and be vigilant in catching uncouth and really nasty amers/cheaters/hackers/scammers who destroy the integrity of the game.
Song genre(s) you love: Orchestra, Rock (light or not), R & B, Pop, and 80's songs.
3 songs in your mp3 player? Mamaw by Michael V, My Humps by Black Eyed Peas, We've Only Just Begun by The Carpenters.
Movies you watched recently: Pirates of the Caribbean 3, License To Wed, 1408.
Books you recently read: Harry Potter and the Deathly Hollows, Electronic Communications Systems by Wayne Tomasi
Thank you so much for your time, Charlene. Hope to see you next month in LIVE 2007!